About Us
Dominic Pizza is a Pizza takeaway in York. Why don't you try our 2nd Half Pizza or 1st Half Pizza?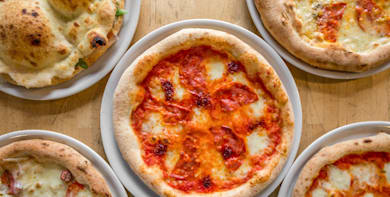 Reviews
54 reviews
Heidi
"One of the best takeaways I've ever had! Will defo order again."
29/04/2020
Samantha
"Love the food been ordering here for years!!"
27/03/2020
Chloe
"best pizza in the uk"
27/03/2020
rich
"Outstanding"
24/02/2020
Menu
American Burger Half Pounder
Fried onion, bacon, pepperoni & salami
£7.00
American Burger Quarter Pounder
Fried onion, bacon, pepperoni & salami
£6.00
Bacon Burger Half Pounder
Bacon & cheese
£7.00
Bacon Burger Quarter Pounder
Bacon & cheese
£6.00
Beef Burger Quarter Pounder
£5.00
Cheeseburger Half Pounder
£6.50
Cheeseburger Quarter Pounder
£5.50
Chicken Cheeseburger
1 x cheeseburger & 1 x chicken burger in a bun
£7.00
Chicken Fillet Burger Half Pounder
£7.00
Chicken Fillet Burger Quarter Pounder
£6.00
Hawaiian Burger Half Pounder
Pineapple & cheese
£6.50
Hawaiian Burger Quarter Pounder
Pineapple & cheese
£5.50
Garlic Burger Half Pounder
£6.50
Garlic Burger Quarter Pounder
£5.50
Dominic Burger Half Pounder
Fried onion, pepperoni & salami
£7.00
Dominic Burger Quarter Pounder
Fried onion, pepperoni & salami
£6.00
Chilli Burger Half Pounder
£6.50
Chilli Burger Quarter Pounder
£5.50
Vegi Burger Quarter Pounder
£5.50
Mighty Burger
3 x cheeseburger in a bun
£7.00
Special Burger Half Pounder
Donner meat & cheese
£7.00
Special Burger Quarter Pounder
Donner meat & cheese
£6.00
Spicy Bean Burger Half Pounder
£6.00
Spicy Bean Burger Quarter Pounder
£5.00
Chicken Parmesan D.I.Y
Any 3 toppings
£10.50
Chicken Parmesan with BBQ Sauce & Cheese
£9.50
Chicken Parmesan with Ham & Mushroom
£9.50
Chicken Parmesan with Onions & Mushrooms
£9.50
Chicken Parmesan with Pepperoni & Jalapenos
£9.50
Spicy Beef Pizza Large
Spicy beef, mushrooms, jalapenos & onions
£12.40
Spicy Beef Pizza Medium
Spicy beef, mushrooms, jalapenos & onions
£10.40
Spicy Beef Pizza Small
Spicy beef, mushrooms, jalapenos & onions
£8.40
Spicy Beef Special Pizza Large
Spicy beef, bacon, chicken & jalapenos
£12.90
Spicy Beef Special Pizza Medium
Spicy beef, bacon, chicken & jalapenos
£10.90
Spicy Beef Special Pizza Small
Spicy beef, bacon, chicken & jalapenos
£8.70
Spicy Chicken Pizza Large
Chicken, jalapenos & onions
£12.40
Spicy Chicken Pizza Medium
Chicken, jalapenos & onions
£10.40
Spicy Chicken Pizza Small
Chicken, jalapenos & onions
£8.40
Spicy Meat Supreme Pizza Large
Bacon, ham, salami, pepperoni, garlic sausage, onions & jalapenos
£13.20
Spicy Meat Supreme Pizza Medium
Bacon, ham, salami, pepperoni, garlic sausage, onions & jalapenos
£11.20
Spicy Meat Supreme Pizza Small
Bacon, ham, salami, pepperoni, garlic sausage, onions & jalapenos
£9.20
Spicy Meatball Pizza Large
Meatballs, jalapenos, onions & feta cheese
£13.00
Spicy Meatball Pizza Medium
Meatballs, jalapenos, onions & feta cheese
£11.00
Spicy Meatball Pizza Small
Meatballs, jalapenos, onions & feta cheese
£9.00
Seafood Pizza Large
Anchovies, tuna & prawns
£13.00
Seafood Pizza Medium
Anchovies, tuna & prawns
£11.00
Seafood Pizza Small
Anchovies, tuna & prawns
£9.00
Student Special Pizza Large
Donner meat & pepperoni
£12.40
Student Special Pizza Medium
Donner meat & pepperoni
£10.40
Student Special Pizza Small
Donner meat & pepperoni
£8.40
Toscano Pizza Large
Pepperoni, ham, onions & mushrooms
£12.20
Toscano Pizza Medium
Pepperoni, ham, onions & mushrooms
£10.70
Toscano Pizza Small
Pepperoni, ham, onions & mushrooms
£8.70
Tropicana Pizza Large
Ham, mushroom & pineapple
£12.40
Tropicana Pizza Medium
Ham, mushroom & pineapple
£10.40
Tropicana Pizza Small
Ham, mushroom & pineapple
£8.40
Vegetarian Pizza Large
Mushrooms, onions, peppers, sweetcorn & olives
£12.70
Vegetarian Pizza Medium
Mushrooms, onions, peppers, sweetcorn & olives
£9.70
Vegetarian Pizza Small
Mushrooms, onions, peppers, sweetcorn & olives
£7.70
Meat Supreme Pizza Large
Ham, pepperoni, salami, garlic sausage & onions
£13.20
Meat Supreme Pizza Medium
Ham, pepperoni, salami, garlic sausage & onions
£11.20
Meat Supreme Pizza Small
Ham, pepperoni, salami, garlic sausage & onions
£9.20
Meatball Pizza Large
Meatballs, onions & feta cheese
£13.00
Meatball Pizza Medium
Meatballs, onions & feta cheese
£11.00
Meatball Pizza Small
Meatballs, onions & feta cheese
£9.00
Mexicana Pizza Large
Bolognese, jalapenos & onions
£12.70
Mexicana Pizza Medium
Bolognese, jalapenos & onions
£10.70
Mexicana Pizza Small
Bolognese, jalapenos & onions
£8.70
Pollo Pizza Large
Chicken & sweetcorn
£12.20
Pollo Pizza Medium
Chicken & sweetcorn
£10.20
Pollo Pizza Small
Chicken & sweetcorn
£8.20
Salami Pizza Large
Salami, onions, peppers & mushrooms
£12.20
Salami Pizza Medium
Salami, onions, peppers & mushrooms
£10.70
Salami Pizza Small
Salami, onions, peppers & mushrooms
£8.70
Roma BBQ Pizza Large
BBQ sauce base
Bacon, ham, pepperoni & chicken
£13.00
Roma BBQ Pizza Medium
BBQ sauce base
Bacon, ham, pepperoni & chicken
£11.00
Roma BBQ Pizza Small
BBQ sauce base
Bacon, ham, pepperoni & chicken
£9.00
Romano Pizza Large
Garlic sausage, onions, mushrooms & green peppers
£12.40
Romano Pizza Medium
Garlic sausage, onions, mushrooms & green peppers
£10.40
Romano Pizza Small
Garlic sausage, onions, mushrooms & green peppers
£8.40
Royal Pizza Large
BBQ base
Bacon, pepperoni & mushrooms
£12.90
Royal Pizza Medium
BBQ base
Bacon, pepperoni & mushrooms
£10.90
Royal Pizza Small
BBQ base
Bacon, pepperoni & mushrooms
£8.70
Pepperoni Pizza Large
Pepperoni, peppers & onions
£12.40
Pepperoni Pizza Medium
Pepperoni, peppers & onions
£10.40
Pepperoni Pizza Small
Pepperoni, peppers & onions
£8.40
Pepperoni Plus Pizza Large
Double pepperoni & double cheese
£13.00
Pepperoni Plus Pizza Medium
Double pepperoni & double cheese
£11.00
Pepperoni Plus Pizza Small
Double pepperoni & double cheese
£9.00
Prosciutto Funghi Pizza Large
Ham & mushrooms
£12.20
Prosciutto Funghi Pizza Medium
Ham & mushrooms
£10.20
Prosciutto Funghi Pizza Small
Ham & mushrooms
£8.20
Proscutto Pizza Large
Ham
£10.90
Proscutto Pizza Medium
Ham
£8.90
Proscutto Pizza Small
Ham
£7.20
Vita Special Pizza Large
Chicken, donner & onions
£12.40
Vita Special Pizza Medium
Chicken, donner & onions
£10.40
Vita Special Pizza Small
Chicken, donner & onions
£8.40
Tandoori Chicken Pizza Large
Tandoori chicken, jalapenos & sweetcorn
£12.40
Tandoori Chicken Pizza Medium
Tandoori chicken, jalapenos & sweetcorn
£10.40
Tandoori Chicken Pizza Small
Tandoori chicken, jalapenos & sweetcorn
£8.40
Create Your Own Pizza Large
6 Toppings of your choice
£13.50
Create Your Own Pizza Medium
6 Toppings of your choice
£11.50
Create Your Own Pizza Small
6 Toppings of your choice
£9.50
Chorizo Pizza Large
Chorizo, red onions & chicken
£12.90
Chorizo Pizza Medium
Chorizo, red onions & chicken
£10.90
Chorizo Pizza Small
Chorizo, red onions & chicken
£8.70
Chilli Pepperoni Pizza Large
Pepperoni & jalapenos
£12.40
Chilli Pepperoni Pizza Medium
Pepperoni & jalapenos
£10.40
Chilli Pepperoni Pizza Small
Pepperoni & jalapenos
£8.40
Donner Pizza Large
Donner meat, onions, mushrooms & peppers
£12.40
Donner Pizza Medium
Donner meat, onions, mushrooms & peppers
£10.40
Donner Pizza Small
Donner meat, onions, mushrooms & peppers
£8.40
Full Up Special Pizza Large
Pepperoni, salami, bacon, spicy beef, donner meat, mushrooms & onions
£13.20
Full Up Special Pizza Medium
Pepperoni, salami, bacon, spicy beef, donner meat, mushrooms & onions
£11.20
Full Up Special Pizza Small
Pepperoni, salami, bacon, spicy beef, donner meat, mushrooms & onions
£9.20
Hot Margherita Pizza Large
Cheese & chilli sauce
£10.30
Hot Margherita Pizza Medium
Cheese & chilli sauce
£8.30
Hot Margherita Pizza Small
Cheese & chilli sauce
£6.70
Hot Shot Pizza Large
Pepperoni, jalapenos, garlic spread & onions
£12.40
Hot Shot Pizza Medium
Pepperoni, jalapenos, garlic spread & onions
£10.40
Hot Shot Pizza Small
Pepperoni, jalapenos, garlic spread & onions
£8.40
Four Cheese Pizza Large
A blend of cheeses
£12.40
Four Cheese Pizza Medium
A blend of cheeses
£10.40
Four Cheese Pizza Small
A blend of cheeses
£8.40
Four Seasons Pizza Large
Ham, mushroom, peppers & onions
£12.20
Four Seasons Pizza Medium
Ham, mushroom, peppers & onions
£10.70
Four Seasons Pizza Small
Ham, mushroom, peppers & onions
£8.70
Hawaiian Pizza Large
Ham & pineapple
£12.20
Hawaiian Pizza Medium
Ham & pineapple
£10.20
Hawaiian Pizza Small
Ham & pineapple
£8.20
Italiano Pizza Large
Chicken, bolognese, donner meat & onions
£12.20
Italiano Pizza Medium
Chicken, bolognese, donner meat & onions
£10.70
Italiano Pizza Small
Chicken, bolognese, donner meat & onions
£8.70
Kiev Pizza Large
Chicken, ham & garlic spread
£12.70
Kiev Pizza Medium
Chicken, ham & garlic spread
£10.70
Kiev Pizza Small
Chicken, ham & garlic spread
£8.70
London Pizza with Garlic Sauce Large
Cheese, tomato, chips 
£12.40
London Pizza with Garlic Sauce Medium
Cheese, tomato, chips 
£10.40
London Pizza with Garlic Sauce Small
Cheese, tomato, chips 
£8.40
London Pizza without Garlic Sauce Large
Cheese, tomato, chips
£12.40
London Pizza without Garlic Sauce Medium
Cheese, tomato, chips
£10.40
London Pizza without Garlic Sauce Small
Cheese, tomato, chips
£8.40
Margherita Pizza Large
Cheese & tomato
£10.10
Margherita Pizza Medium
Cheese & tomato
£8.10
Margherita Pizza Small
Cheese & tomato
£6.50
Chicken Run Pizza Large
BBQ sauce base
Bacon, ham, chicken, onions & green peppers
£12.70
Chicken Run Pizza Medium
BBQ sauce base
Bacon, ham, chicken, onions & green peppers
£10.70
Chicken Run Pizza Small
BBQ sauce base
Bacon, ham, chicken, onions & green peppers
£8.70
Chicken Special Pizza Large
Chicken, sweetcorn, pepperoni & fresh tomato
£12.40
Chicken Special Pizza Medium
Chicken, sweetcorn, pepperoni & fresh tomato
£10.40
Chicken Special Pizza Small
Chicken, sweetcorn, pepperoni & fresh tomato
£8.40
Chicken Tikka Pizza Large
Chicken tikka base
Onions & chicken
£12.70
Chicken Tikka Pizza Medium
Chicken tikka base
Onions & chicken
£10.70
Chicken Tikka Pizza Small
Chicken tikka base
Onions & chicken
£8.70
Chicken & Mushroom Pizza Large
£12.20
Chicken & Mushroom Pizza Medium
£10.20
Chicken & Mushroom Pizza Small
£8.20
Chicken & Pesto Pizza Large
£11.70
Chicken & Pesto Pizza Medium
£9.70
Chicken & Pesto Pizza Small
£7.70
Al Funghi Pizza Large
Mushrooms
£10.70
Al Funghi Pizza Medium
Mushrooms
£8.70
Al Funghi Pizza Small
Mushrooms
£7.10
Cheeky Chicken Pizza Large
Chicken, pineapple & sweetcorn
£12.40
Cheeky Chicken Pizza Medium
Chicken, pineapple & sweetcorn
£10.40
Cheeky Chicken Pizza Small
Chicken, pineapple & sweetcorn
£8.40
BBQ Chicken Pizza Large
Chicken, onion, bacon & BBQ sauce
£12.40
BBQ Chicken Pizza Medium
Chicken, onion, bacon & BBQ sauce
£10.40
BBQ Chicken Pizza Small
Chicken, onion, bacon & BBQ sauce
£8.40
BBQ Margherita Pizza Large
£10.40
BBQ Margherita Pizza Medium
£8.40
BBQ Margherita Pizza Small
£7.40
Anchovies Pizza Large
Anchovies, onions & olives
£12.50
Anchovies Pizza Medium
Anchovies, onions & olives
£10.50
Anchovies Pizza Small
Anchovies, onions & olives
£8.50
Chicken Kebab Large
Marinated cubes of chicken with herbs & spices, served with fresh salad & sauces in pitta bread
£9.00
Chicken Kebab Medium
Marinated cubes of chicken with herbs & spices, served with fresh salad & sauces in pitta bread
£8.00
Chicken Kebab & Donner - Large
Chicken & donner meat, served in pitta bread with your choice of salad & sauce
£10.50
Lamb Shish Kebab - Large
Marinated cubes of lamb grilled, served with fresh salad & sauce in a pitta bread
£11.50
Donner Kebab Large
Donner meat with herbs & spices on an upright spit, served with fresh salad & sauce in pitta bread
£8.00
Donner Kebab Medium
Donner meat with herbs & spices on an upright spit, served with fresh salad & sauce in pitta bread
£7.00
Donner Kebab X-Large
Donner meat with herbs & spices on an upright spit, served with fresh salad & sauce in pitta bread
£9.00
Donner Meat & Chips - X-Large
Portion of donner meat served with chips & your choice of fresh salad & sauce
£8.00
Portion of Donner - Large
Plain
£5.50
Mix Kebab - X-Large
Chicken, lamb & donner meat, fried onions & peppers, served in pitta bread with your choice of salad & sauce
£14.50
1st Half Pizza BBQ Chicken
1st Half Pizza BBQ Margherita
1st Half Pizza Cheeky Chicken
1st Half Pizza Chicken & Mushroom
1st Half Pizza Chicken & Pesto
1st Half Pizza Chicken Run
1st Half Pizza Chicken Special
1st Half Pizza Chicken Tikka
1st Half Pizza Chilli Pepperoni
1st Half Pizza Four Cheese
1st Half Pizza Four Seasons
1st Half Pizza Full Up Special
1st Half Pizza Hot Margherita
1st Half Pizza Margherita
1st Half Pizza Meat Supreme
1st Half Pizza Pepperoni Plus
1st Half Pizza Prosciutto
1st Half Pizza Prosciutto Funghi
1st Half Pizza Royal Pizza BBQ Base
1st Half Pizza Spicy Beef
1st Half Pizza Spicy Beef Special
1st Half Pizza Spicy Chicken
1st Half Pizza Spicy Meat Supreme
1st Half Pizza Spicy Meatball
1st Half Pizza Tandoori Chicken
1st Half Pizza Vegetarian
2nd Half Pizza BBQ Chicken
2nd Half Pizza BBQ Margherita
2nd Half Pizza Cheeky Chicken
2nd Half Pizza Chicken & Mushroom
2nd Half Pizza Chicken & Pesto
2nd Half Pizza Chicken Run
2nd Half Pizza Chicken Special
2nd Half Pizza Chicken Tikka
2nd Half Pizza Chilli Pepperoni
2nd Half Pizza Four Cheese
2nd Half Pizza Four Seasons
2nd Half Pizza Full Up Special
2nd Half Pizza Hot Margherita
2nd Half Pizza Margherita
2nd Half Pizza Meat Supreme
2nd Half Pizza Pepperoni Plus
2nd Half Pizza Prosciutto
2nd Half Pizza Prosciutto Funghi
2nd Half Pizza Royal Pizza BBQ Base
2nd Half Pizza Spicy Beef
2nd Half Pizza Spicy Beef Special
2nd Half Pizza Spicy Chicken
2nd Half Pizza Spicy Meat Supreme
2nd Half Pizza Spicy Meatball
2nd Half Pizza Tandoori Chicken
2nd Half Pizza Vegetarian
Parmesan Topping BBQ Sauce
Parmesan Topping Jalapenos
Parmesan Topping Mushroom
Parmesan Topping Pepperoni
Calzone Topping Donner Meat
Calzone Topping Sweetcorn
Calzone Topping Garlic Spread
Calzone Topping Bolognese
Calzone Topping Spicy Beef
Calzone Topping Pepperoni
Ben & Jerry's Ice Cream Chocolate Fudge Brownie
£5.50
Ben & Jerry's Ice Cream Cookie Dough
£5.50
Ben & Jerry's Ice Cream Phish Food
£5.50
BBQ Wings 10 Pieces
Served with chips
£10.50
BBQ Wings 14 Pieces
Served with chips
£13.00
BBQ Wings 06 Pieces
Served with chips
£7.00
Chicken Nuggets (10)
Served with salad & chips
£6.00
Chicken Dippers (5) 06 Pieces
Served with chips & any 1 sauce
£7.00
Chicken Dippers (5) 10 Pieces
Served with chips & any 1 sauce
£10.50
Chicken Dippers (5) 14 Pieces
Served with chips & any 1 sauce
£13.00
Lasagne
Served with salad & chips
£9.00
Spicy Hot Wings 06 Pieces
Served with chips
£7.00
Spicy Hot Wings 10 Pieces
Served with chips
£10.50
Spicy Hot Wings 14 Pieces
Served with chips
£13.00
Chilli Cheese Bites
6 Pieces with chips
£6.00
Mozzarella Sticks
5 Pieces with chips
£5.50
Garlic Bread with Bacon & Cheese Large
£10.50
Garlic Bread with Bacon & Cheese Medium
£9.00
Garlic Bread with Bacon & Cheese Small
£7.50
Garlic Bread with Bolognese & Cheese Large
£10.50
Garlic Bread with Bolognese & Cheese Medium
£9.00
Garlic Bread with Bolognese & Cheese Small
£7.50
Garlic Bread with Cheese Large
£8.00
Garlic Bread with Cheese Medium
£7.00
Garlic Bread with Cheese Small
£6.00
Garlic Bread with Chicken & Cheese Large
£10.50
Garlic Bread with Chicken & Cheese Medium
£9.00
Garlic Bread with Chicken & Cheese Small
£7.50
Garlic Bread with Donner Meat & Cheese Large
£10.50
Garlic Bread with Donner Meat & Cheese Medium
£9.00
Garlic Bread with Donner Meat & Cheese Small
£7.50
Garlic Bread with Mushroom & Cheese Large
£9.00
Garlic Bread with Mushroom & Cheese Medium
£8.00
Garlic Bread with Mushroom & Cheese Small
£7.00
Garlic Bread with Tomato Large
£8.00
Garlic Bread with Tomato Medium
£6.00
Garlic Bread with Tomato Small
£5.20
Garlic Bread with Tomato & Cheese Large
£10.00
Garlic Bread with Tomato & Cheese Medium
£8.00
Garlic Bread with Tomato & Cheese Small
£6.30
Garlic Bread with Tomato & Pesto Large
£8.00
Garlic Bread with Tomato & Pesto Medium
£7.00
Garlic Bread with Tomato & Pesto Small
£6.00
Kids 7" Chicken & Sweetcorn Pizza
£4.50
Kids 7" Pepperoni Plus Pizza
£4.50
Kids Chicken Nuggets & Chips
6 pieces
£4.50
Kids Fish Fingers & Chips
4 pieces
£4.50
DIY Calzone
5 toppings of your choice
£9.50
Calzone Donner
Donner meat, mushroom, onions & peppers
£8.00
Calzone Kiev
Chicken, ham & garlic spread
£8.00
Calzone Mix
Chicken, donner meat, bolognese, spicy beef & onion
£8.50
Calzone Special
Ham, pepperoni, salami, onions & garlic spread
£8.50
Calzone Vegi
Mushroom, onions, peppers & sweetcorn
£7.50
Student Deal A
Any 2 x small pizzas
Any quarter pounder burger & chips
Bottle of Pepsi
£19.00
Student Deal B
Any 2 x small pizzas
Onion rings or hash brown
Bottle of Pepsi
£18.00
Meal Deal 1
Any 2 x small pizzas
Bottle of Pepsi
£15.00
Meal Deal 2
Any medium pizza
Donner meat & chips
Bottle of Pepsi
£18.00
Meal Deal 3
Any large pizza
Medium donner kebab
Bottle of Pepsi
£20.00
Meal Deal 4
Any 2 x large pizzas
Bottle of Pepsi
£23.00
Meal Deal 5
Any 3 x small pizzas
Any quarter pounder burger & chips
Bottle of Pepsi
£24.50
Meal Deal 6
Any 2 x medium pizzas
Bottle of Pepsi
£19.50
Flamin Chicken Wrap
Jalapenos & hot sauce
£7.00
Donner Hoagie Wrap
Wrap filled with chips, cheese, donner meat, salad, garlic & chilli sauce
£7.00
Chips & Cheese Wrap
Served with salad, garlic & chilli sauce
£5.00
Crispy Coated Chicken Fillet Strips
£6.00
Vegetarian Wrap
Lettuce, mushrooms, onions & sweetcorn
£5.20
Contact Us
Find Us
3 Lawrence Street, York, YO103BP
We deliver to
YO1, YO10, YO19, YO23, YO24, YO26, YO30, YO31, YO32, YO41